Discover Aviemore's biggest visitor attraction
Cairngorm Mountain is open all year round, with fun things to do for families and visitors of all ages.
A 'must do' attraction for any trip to Aviemore, Cairngorm Mountain is known for its exciting snowsports season and iconic mountain railway. Transporting visitors to the recently refurbished Ptarmigan building in under eight minutes, you can dine at the UK's highest restaurant or go al fresco on the viewing terrace.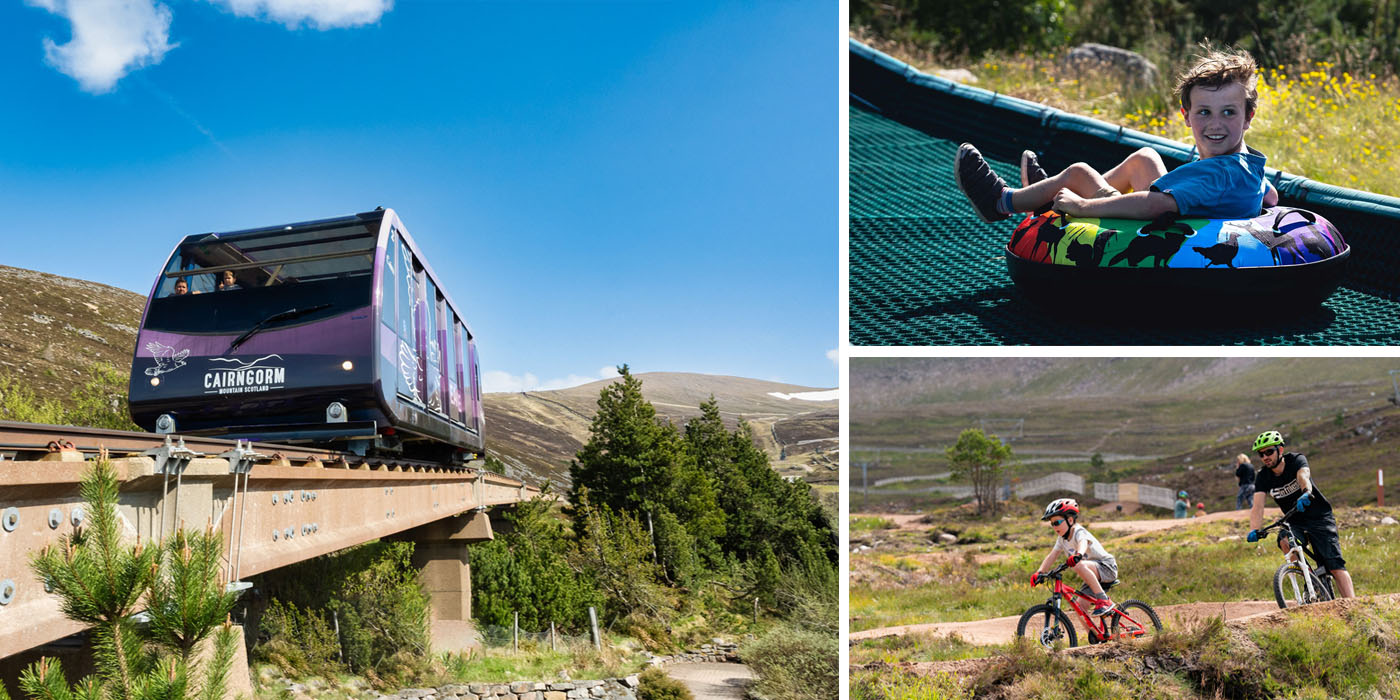 The 270° immersive exhibition space showcases the stunning landscape while at the Cairngorm Learning Zone, children can enjoy our interactive 3D sandboxes and create their own natural environments.
During spring and summer, the unique range of outdoor attractions includes exhilarating mountain biking, tubing with spectacular views, and guided walks around Aviemore's wild landscape. With our motorhome site and parking, visitors can enjoy the Cairngorms' stunning views during their stay at Aviemore.
---
Cairngorm Mountain Reviews
---
Family-friendly activities at Cairngorm Mountain, near Aviemore
In the heart of Aviemore, Cairngorm Mountain is Scotland's favourite mountain destination. Our exciting outdoor attractions are open all year round so you are spoiled for choice with fun things to do.
---
Frequently Asked Questions
Hopefully by now you are already planning your visit to Cairngorm Mountain, to help you we have compiled a list of popular FAQs:
What are your opening hours?

Facilities                                                        Opening Times

Cairngorm Café & Mountain Shop                9:00AM-4.00PM

How much does it cost to park in your car park?

A £3.00 charge per vehicle for daytime parking is now required at the pay on exit ticket machine. Payment options are by contactless credit/debit cards, or coins. From 1st November 2022 to 31st March 2023, we will not be charging for car parking, however we do have donation boxes around the car park and you can also donate in The Mountain Shop.  

I am a frequent visitor; do I get a discount on car parking?

For regular visitors to Cairngorm Mountain we offer a one off payment for the summer season of £20.00. Please contact info@cairngormmountain.co.uk for details on how to obtain this offer.

Do I have to pay for parking if I am disabled?

We do not charge for parking for Blue Badge holders. For Blue Badge holders wishing to visit us, please also contact  info@cairngormmountain.co.uk  

Can I go tubing without booking?

We strongly recommend that you book in advance to guarantee availability. You can book online on our website.

How old does my child have to be to go tubing?

The Snowflake is suitable for children aged 2 & over.  For the Spindrift & Cliffhanger rides children (and adults) from age 4+ and must be over 1 metre tall.  

Is tubing available midweek?

If booking for a minimum number of 10 people we can look at availability to book a tubing session for your group. Please email info@cairngormmountain.co.uk with your date, time and contact number and we will check our availability and come back to you.  Tubing will be available daily during the Summer School Holidays.  

Can I cancel my tubing/guided walk booking?

Yes, you can cancel and receive a full refund up to 48 hours in advance of your booking. Cancellations within 48 hours of your booking will require special circumstances, and will be evaluated on a case-by-case basis. If you wish to cancel please  email info@cairngormmountain.co.uk.

How can I see if there is availability on the day I want to visit?

You can see all our availability of tubing and guided walks on our website. 

Do I have to book online for the Northern Corries Walk?

Booking is essential to participate in all of our guided walks.  You can book online on our website.

Do you offer ranger guided walks on other days of the week?

We can look at this based on minimum numbers of participants. Please email with your request & a member of staff will check with the ranger's availability.  

Do you have toilets and showers in your motorhome site?

Only vehicles with an on-board toilet (this can be a cassette toilet on smaller vans) can park at the motorhome site. There are no toilets or showers on the site therefore caravans and tents are excluded from this facility. The site does feature a secure entry and waste disposal, visit our website for full details. 

I plan wild camping/walking in the mountains, how do I advise the ranger?

We ask that you fill out a digital route card so that we are able to keep track of cars left in our car parks and can provide assistance to the emergency services if required.  Please complete this form.

Can you cater for birthday parties?

We can accommodate both children's and adult parties with a tubing session (minimum numbers of 10 apply) together with food and drink in our Cairngorm Café. Just email us with your preferred dates and times and we'll come back to you. 

Do you charge for parking in the wintertime?

From 1st November 2022 to 31st March 2023, we will not be charging for car parking, however we do have donation boxes around the car park, and you can also donate in The Mountain Shop.  

Is your motorhome site open all year?

Our motorhome site is seasonal. The final opening day will be 31st October 2022 and we will re-open on 1st May 2023.

Are you dog friendly?

Yes we are dog friendly. You can bring your furry friend into our cafes in the Day Lodge and there's also great walks you can do from the main car park. Please note that only assistance dogs are allowed on the journey up on the Mountain Railway to the Ptarmigan. However for walkers we do allow dogs into the Ptarmigan restaurant at the Top Station.