Cairngorm Motorhome Site
Jump to a Section
---
Site Information Area Information Booking Information Visitor Management Terms & Conditions
---
Pitch Up in One of the Most Stunning Locations in the Cairngorms
The Coire na Ciste is one of the most stunning locations in the Cairngorms National Park. With picturesque views across Glenmore, Loch Morlich and through the epic Ryvoan Pass the Cairngorm Motorhome Site is an idyllic place to pitch up for the evening.
We have worked closely with the Cairngorms National Park Authority and neighbouring land owners Forestry and Land Scotland and RSPB to develop this secure new facility for visitors to enjoy. This facility is suitable for motorhomes and campervans with an onboard toilet.
With individual pitches, a code locked entry system as well as water and waste facilities you will have everything you need for an overnight stay. Please be aware that the site does not have showers & toilets and is therefore only suitable for vehicles who have an onboard toilet.
---
Site Information
Facility Overview
The site offers security for those touring in the Cairngorms. With 45 individual pitches, a code locked entry system as well as essential facilities (excluding showers & toilets) including a water feed and disposal points for grey water, chemical waste and refuse you will have everything you need for an overnight stay.
How to Get Here
The Cairngorm Motorhome Site is located in the Coire na Ciste car park approximately 10 miles from the nearby town of Aviemore and 3 miles from Glenmore and Loch Morlich. Arriving off the A9 take the B970 directly toward Glenmore and up the ski road to the site. 
Site Map
Water, waste disposal and refuse bins are provided, so visitors can enjoy the site without harming the environment. Over many years, nature and weather and created amazing scenery that can be enjoyed from the campervan site. Visitors can use one of the many viewpoints located around the site to see and learn more about what makes this environment so special.
We want to ensure visitors have the best experience possible when staying with us and actively encourage responsible tourism alongside our partners. Please be considerate of the environment and others in it, we reserve the right to remove those who breach our terms and conditions from the facility.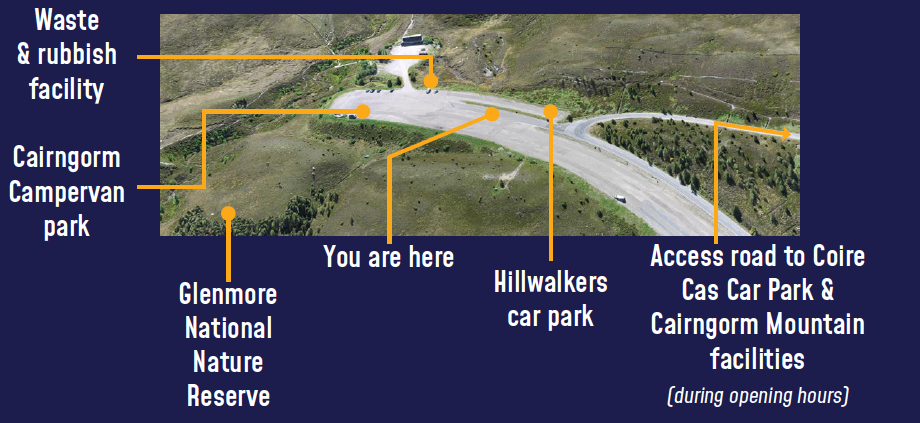 ---
---
Area Information
The Cairngorm Motorhome Site is surrounded the most precious and protected ground in the British Isles. Learn more about the Cairngorm Estate and its neighbouring land below.
---
---
Booking Information
As this is a gated access site, booking is essential. Pitches can be booked on a single night basis through our website via Ticketinghub. Pitch fees are £10 per night.
You should not book more than 3 consecutive nights and must also provide your vehicle's valid registration number at the time of booking. If you are planning to stay longer than a single night, please carry out the booking process and select 'book another stay' when prompted.
---
---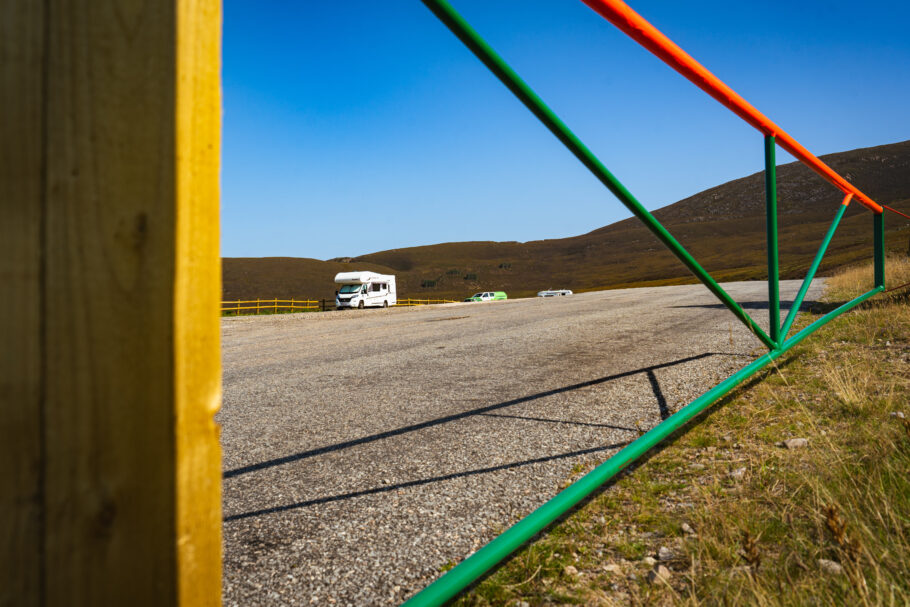 Terms & Conditions
Please familiarise yourself and the members of your group with our terms and conditions before going ahead with your booking. By agreeing to these terms and conditions you are entering into a contract with Cairngorm Mountain (Scotland) Limited.
DEFINITIONS

'Us', 'we' and 'our' means Cairngorm Mountain (Scotland) Limited and includes any representative appointed as its agent. 'You' means the driver, the passengers and the legal owner of the vehicle. A 'vehicle' is defined as any motorised and wheeled device used for transporting visitors. 

CONTRACT

By parking in this site, you acknowledge that you enter into a contract with us on the basis of these terms and conditions.

LIABILITY

Cairngorm Mountain (Scotland) Limited does not accept any liability for any loss or damage to vehicles or their contents.

USE OF THE FACILITY

You should arrive at the site no earlier than the specified time on the day of your booking.
We ask that you vacate the site by 11AM on the day of your departure, and the area should be left as you found it. Leave no Trace, please click to learn more.
You should not book more than 3 consecutive nights. All users may be subject to spot checks by our staff and must present a valid booking confirmation/ticket when asked. Failure to do so may result in your immediate removal from the facility.
You cannot allow other vehicles to enter the facility other than your own registered vehicle, as stated at the time of booking.
You and the other members of your party are required to contain your parking and sleeping arrangements/belongings within your allocated parking slot.
You are expected to reduce noise levels and vehicle movements between 10PM and 6AM.
You may only park at the facility if you are using a motorhome or campervan with an on-board toilet. This can be a cassette toilet on smaller vans. Caravans and tents are excluded from this facility.
You must dispose of your chemical toilet waste and grey water into the appropriate tanked facility onsite, or in suitable facilities elsewhere on your onward journey avoiding any spillage and damage to the natural environment. 
Dogs are welcome but must always be kept on a lead within the site and not allowed off lead out with the site so they do not disturb easily scared wildlife. You are responsible for clearing up after your dog(s) and disposing of their waste appropriately. Please click to learn more. You are not permitted to take any other pets or animals with you during your stay.
You are not permitted to light camping fires or other open fires. You cannot use BBQ's unless they are raised off the ground and have controllable gas burners. You are permitted to use camping stoves externally from your vehicle for cooking purposes. Please click to learn more.
You must keep your allocated area tidy, do not leave rubbish or other items (such as folding chairs) outside your vehicle as they can get blown away or attract vermin. Please minimise waste, use the designated recycling point on site and where possible take your litter home with you.
You are expected to follow the Scottish Outdoor Access Code during your stay. You should stay on constructed footpaths in the vicinity and avoid disturbing wildlife below the car park, especially during the ground nesting bird season from April to August. Please click to learn more.

BOOKINGS

It is essential that you book in advance for this facility. Pitches can be reserved online through our website.
Pitches can only be booked on a single night basis to cooperate with the provisions of our Visitor Management Plan.
The gate code is changed regularly and will be broadcast to all ticket holders via SMS notification 30 minutes prior to the specified arrival time on your tickets. If you do not receive the SMS notification please contact the main office on 01479861261 (9AM – 5PM) or email info@cairngormmountain.co.uk stating your booking reference.

CANCELLATIONS AND REFUNDS

We retain the right to cancel your booking at any time and close the parking facility. You will be refunded your booking fee in full.
We retain the right to remove you and your vehicle due to anti-social behaviour or any environmental concerns that you or the behaviour of others in your group may pose to other visitors using the facility or to the surrounding mountain environment. You will not be entitled to any refund. 
You are parking in a mountain environment, with harsh weather conditions at times, even in summer. You should check weather forecast prior to booking. You should check weather forecasts daily and take appropriate measures to protect yourself, your vehicle, your equipment, and belongings, which you are responsible for. At times we may suspend bookings or close the facility due to weather or forecasted weather. This may be done at short notice. Full refunds will be provided in case of an unexpected closure.
See our Terms & Conditions
---