First Time Guide
Get to know Cairngorm Mountain
The Cairngorm Mountain resort is located on Scotlands' 6th highest mountain offering unforgettable snow sports and picturesque panoramic views. Situated in the heart of the Cairngorm National Park it is much more than just a ski area with year round activities and access to some of the most spectacular hill walking and climbing routes Scotland has to offer. If its your first time visiting Cairngorm then here is some useful information to help you get to know the place.

Elevation
Summit: 1245 m | 4085 ft
Ski Area Base: 640 m | 2099 ft
Ski Area Peak: 1230 m | 4035 ft
Access
Take B970 from Aviemore
Follow signs for Glenmore
Join ski road from Glenmore
Terrain
Green | Easy
13 Runs
40% of Overall Terrain
Blue | Intermediate
10 Runs
30% of Overall Terrain
Red | Difficult
6 Runs
20% of Overall Terrain
Black | Expert
2 Runs
10% of Overall Terrain
Surface Lifts
Snowbadger Trainer Rope Tow – 80m
Car Park T-Bar – 800m
Fiacaill Ridge Poma – 1030m
Day Lodge Poma – 792m
Sunkid Platter Tow – 296m
Coire Cas T-bar – 1061m
M1 Poma – 805m
Ptarmigan T-Bar – 521m
Coire Na Ciste T-Bar – 828m
Polar Express Trainer Lift – 122m
West Wall Poma – 1640m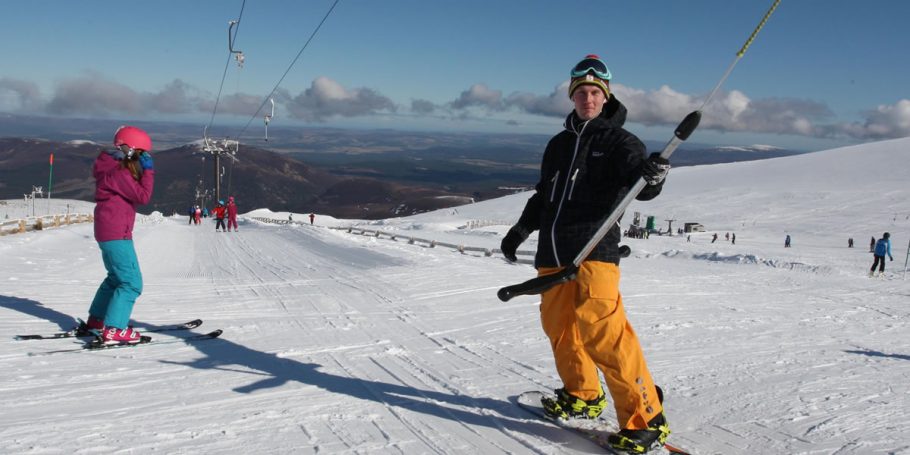 Top Tips for First Timers
Now that you you have got to know Cairngorm here are some top tips for your first visit.
Arrive early to ensure you can find a space in the upper car park.
Hop on the public bus service from Aviemore to Cairngorm Mountain, stopping at our front door. Click here for bus timetables!
Have your pre-booked ticket code ready on arrival at the ticket office so our team can process your lift passes efficiently.
Bring spare cash as there is no ATM at the resort (card payments are accepted in the ticket office, retail and restaurants however!)
Keep your ticket on the left of your body and not in a pocket shared with any other cards or with a mobile phone. The new snowsports tickets come with an electronic chip in them, which will allow customers to pass through the scanner at entry points to uplift on the mountain. 
Go through one by one at the gates at the tows. If you crowd through them they will jam so please move through steadily.
Visit our Facebook Page and Website for conditions – our phone lines get very busy during the winter season, with many callers requesting information which is easily found online. Check out the conditions pages which give up-to-date snow/road reports and webcam photos. Our Facebook page is updated simultaneously with the same information. The information which appears on the website/Facebook is the most up to date available – if it has not been updated for some time that means there is no change. The same information also appears on screens all round the site showing Cairngorm TV. 
Check in for equipment hire on arrival – enter ski hire through the main door on the left of the day lodge and follow guidance from our rentals team to collect your equipment. If hiring (and only if hiring) then you can buy your lift pass when pre-booking and collect it with your equipment – don't queue twice!
Eat early or late to avoid café and restaurant queues!
Beat the crowds by using surface tows – go up on the Fiacaill Ridge or Day Lodge pomas or on the Car Park T-bar (in pairs), to avoid the congestion further down the slopes (particularly first thing in the morning).
---
Next Steps
Discover the runs, lifts and tows here at Cairngorm Mountain, to plan your day on the slopes in advance.
Piste Map
Check live conditions and the latest weather, direct from Cairngorm Mountain
View Report