Conservation
Highlands and Islands Enterprise takes its responsibilities to the environment of its Cairngorm Estate seriously, and recognises the importance of keeping the natural elements of this popular area in as near a natural state as possible.
Cairngorm Mountain Ranger Service is the public face of these efforts, working with visitors and contractors to reduce the effects of popularity on the mountain. HIE has spent over £1 million on mountain path repairs over the years. Wide rubble-strewn scars on the landscape are now robust and well-maintained mountain paths, managed by the Ranger Service.
---
Snow White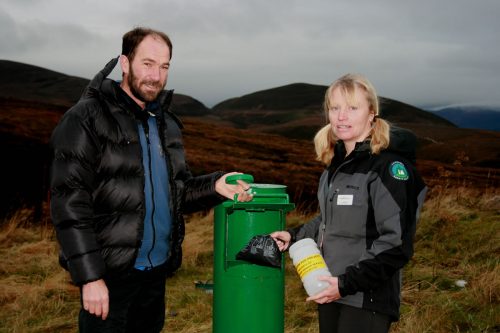 Cairngorm Mountain Ranger Service has been operating the Keep Cairngorm Snow White project from some years now and continues to be run free of charge. 
The ethos of this service was and remains to reduce the amount of human waste left on our mountains by packing out the waste off the mountain and utilising the onsite wastewater treatment plant at the Lower Coire Cas Car Park.
During the winter season, it was commonly observed that human waste would be buried in snow, for it only to melt out in the spring. The unsightly mess would slowly break down during the warmer months with a risk of polluting the clear mountain streams and unique sub-arctic habitats in the deep snow patch areas that are common and popular for snow holing. 
This service is available all year round in efforts to continually reduce the amount of human waste that is left in the mountains. 
More information can be found at the Cairngorm Mountain Ranger Base at the top of the upper car park in Coire Cas.­­
Your car parking ticket and donations is a way to help support this scheme. Thank you.
Scottish Outdoor Access Code – Human Waste
---
Research & Events
Easy access makes Cairngorm popular with many researchers advancing our knowledge of the mountain and groups wishing to organise large mountain events.
Cairngorm Mountain Ranger Service works with organisers to ensure the environmental integrity of the mountain and to avoid disturbance to wildlife and others enjoying the wild aspects of the mountains.
---
Visitor Management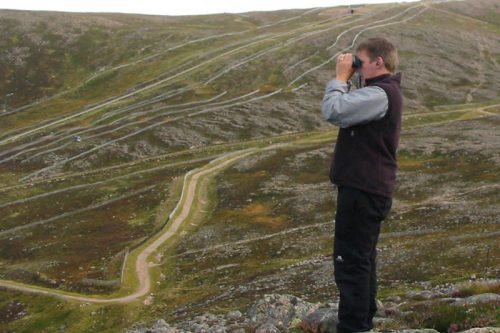 HIE and CMSL are dedicated to running the mountain railway sustainably, and have signed up to a legal agreement not to permit users of the railway access onto the sensitive mountain areas nearby. This requires constant Monitoring, co-ordinated by the Ranger Service and carried out by Rangers and contractors, and results guide the management of visitors and the resource.
Any changes to the agreement must be approved by The Highland Council, Scottish Natural Heritage, Highlands & Islands Enterprise and the Cairngorms National Park Authority. Cairngorm Mountain recognises the demand for access onto the mountain and over the years has been working to increase the opportunities in a controlled manner. The guided activities that are now provided for visitors are effective in promoting a better understanding of the environment of the mountain.