Recreation
Visitors enjoy many different types of recreation summer and winter at Cairngorm Mountain
Mountaineering
The high level car parks make the high mountains accessible to people regardless of their skill levels and equipment. This can be a trap for the unwary and there are many cautionary tales to be told. The Ranger Service spends much time advising people about their plans and the suitability of their equipment.
The guided walks offered in the Northern Corries are ideal ways of finding out more about this fascinating place. For many people it is their first taste of mountain travel which they never forget. Rangers pass on essential weather and avalanche conditions forecasts.
A brief visit to the Ranger Base could be a life-saver, and is especially recommended if you are unfamiliar with the mountains or are planning to stay out overnight. 
Scottish Outdoor Access Code – Climbing | Scottish Outdoor Access Code – Walking
---
Ski-Touring
Traversing the mountains on ski deserves a special mention as when the tows are operational, Cairngorm Mountain can assist with uplift. Ski mountaineers must ensure they and their kit is fit for this arduous activity before they can enjoy long unmarked and unpisted descents in remote parts of the mountains.
Scottish Outdoor Access Code – Snowsports Touring
---
Overnights
Taking a tent up to a remote mountain lochan is a romantic notion with much appeal. Arguably, the mountain-goer does not know the mountain well unless they have spent a night out on the high ground. The practicality is challenging: carrying gear and food uphill and being at the mercy of the wind which can, at worst, flatten any tent in winter, well-equipped parties can dig snow holes and survive the night.
In winter, well-equipped parties can dig snow holes and survive the night. Cairngorm Mountain Ranger Service asks snow hole users to bring back absolutely everything, including their human waste, and provides the Snow White facility for this. The facility is available in the summer, too. Campers will find no fuel for burning, and no fireplaces, so campfires are not used on the mountain. The Ranger Service does not promote the use of remote mountain bothies, but can advise people planning to head for them.
Scottish Outdoor Access Code – Camping | Scottish Outdoor Access Code – Lighting Fires
---
Birdwatching
The attraction of mountain species such as ptarmigan and snow buntings brings many birdwatchers to Cairngorm. In summer Rangers advise visitors to be aware not to disturb breeding dotterel. 
---
Dog Walking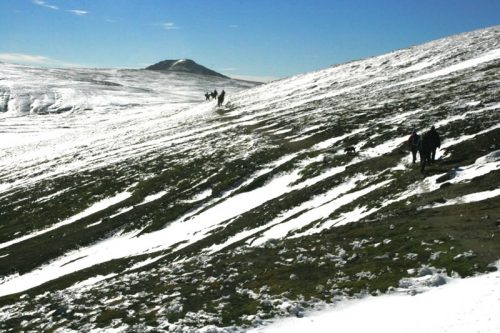 Dogs are a great way of ensuring regular exercise, but need careful control on this open landscape.  Birds nesting on the ground have no defense against them and Rangers always advise dog owners to keep their dogs leashed.
Scottish Outdoor Access Code – Dog-Walking
SaveSave